Heya guys,
I've found this guide on how to train Invention afk.
This is however a very expensive way of training Invention.
I did
NOT
make this guide, all the credits are for RSHTML
Gear:
•Tectonic mask
•Any cape
•Aura - vamp, penance or supreme runic accuracy (In the order from best to worst IMO but all viable)
•Arcane blood necklace (really good to use here, this won't work without this item!)
•Tirannwn quiver 4 (prayer bonus)
•Virtus boots/gloves
•Sixth-age circuit
•Crystal staff
•Gano body/legs
Image gear setup: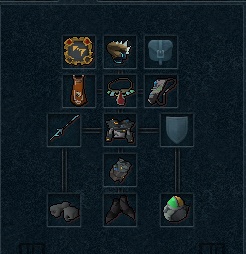 Inventory:
•3 supreme overload salves (or holy overloads)
•22 super restore flasks
•Blood runes + fire runes
•Spring cleaner
Image inventory setup:
Note: if your body/legs is level 8 or higher take another piece of them with you. If your staff is over level 2-3 bring another staff with you.
How to kill muspahs fully afkable (no threshold abilties):
•Summon your ice nihil at the bank and teleport to the world gate using the sixth age circuit.
•Go in the room (cradle) and stand at this location:
1 step left of the middle line.
•Drink 1 dose of supreme overload salve and set a timer (optional) for 6 minutes (and repeat this after every dose that you drink), have sunshine on your ability bar and click on it, as you are 0% adrenaline it won't activate right away but it will after a minute or so.
•Activate your torment/soulsplit prayers
•After your sunshine is activated you are now probably around half your hp so get to 100% adrenaline and use ice asylum or eat some food (they often drop sharks).
•Keep using sunshine once a minute, i don't use any thresholds but you can if you want to, my ability bar looks like this:

•Whenever you get low, 50% health use ice asylum or eat some sharks that they drop.
•That's it, you shouldn't die anymore, just make sure to overload on time because they do drop your health really fast if you don't.
Notes:
•Use blood blitz! blood barrage is not worth it!
•Extend your auras by 1 hour using vis wax
•Vampyrism aura heals you 100%, no need for any food (love this aura here, best to use!).
•If you are using the penance aura you don't need to bring super restores just bring brew flasks.
•Supreme runic accuracy is the weakest of the lot, need to pick up some sharks once in a while but overall not too bad.
•You can last for around 1 and a half hour using this method, ice nihil will only lasts for a little bit under that, i don't think it's worth bringing an extra pouch.
•Always check your armour/weapon levels and apply the above stament, whether or not to bring extra pieces, if you bring extra pieces remove some super restores/brew flasks!
•Scrimshaws are not worth it, don't bother spending the extra 1M gp per trip!
•Use tirannwn quiver for the prayer bonus, virtus boots/gloves can be swapped with subjugation but i prefer the extra prayer bonus, it does help a lot!
•Tectonic mask is 2m~ and lasts for around 30 hours or so, totally worth it!
Hope this guide helps out those seeking for an afk method